Quality Windows, Doors, Bi-Fold Doors and Conservatories to the Trade, DIY and Commercial
Highseal Manufacturing Company
Opening Times
Monday 8:00am - 5:00pm
Tuesday 8:00am - 5:00pm
Wednesday 8:00am - 5:00pm
Thursday 8:00am - 5:00pm
Friday 8:00am - 5:00pm
Saturday Closed
Sunday Closed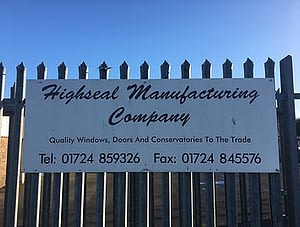 For quotations and/or orders for our Highseal brand of products please contact us. Please speak to John Longden or Adam Jackson in our sales team. They would be happy to help with your enquiry or designs. We do provide a free take off (from plans) and quotation service. 
Alternatively you can email [email protected] 
Also, we have a sales representative in Scotland to discuss our products with customers. If you was interested in this please contact the office and we would be happy to pass on your information and arrange a conversation.
Should you have any queries relating to supplied products, deliveries, installations and/or complaints about our services please contact a member of our dedicated Customer Services Team in the first instance.
Please fill out the CSR form (download HERE) which you can download from the website. We feel this will help to speed up our response time when dealing with customer service issues. They are ready to assist in any way possible and can be contacted between 8:30am and 5:00pm, Monday to Friday.
Our aim is to meet your expectations and ensure that you are satisfied with the level of service we provide, so we will continue to make every effort to deal with all queries as quickly and as effectively as possible.